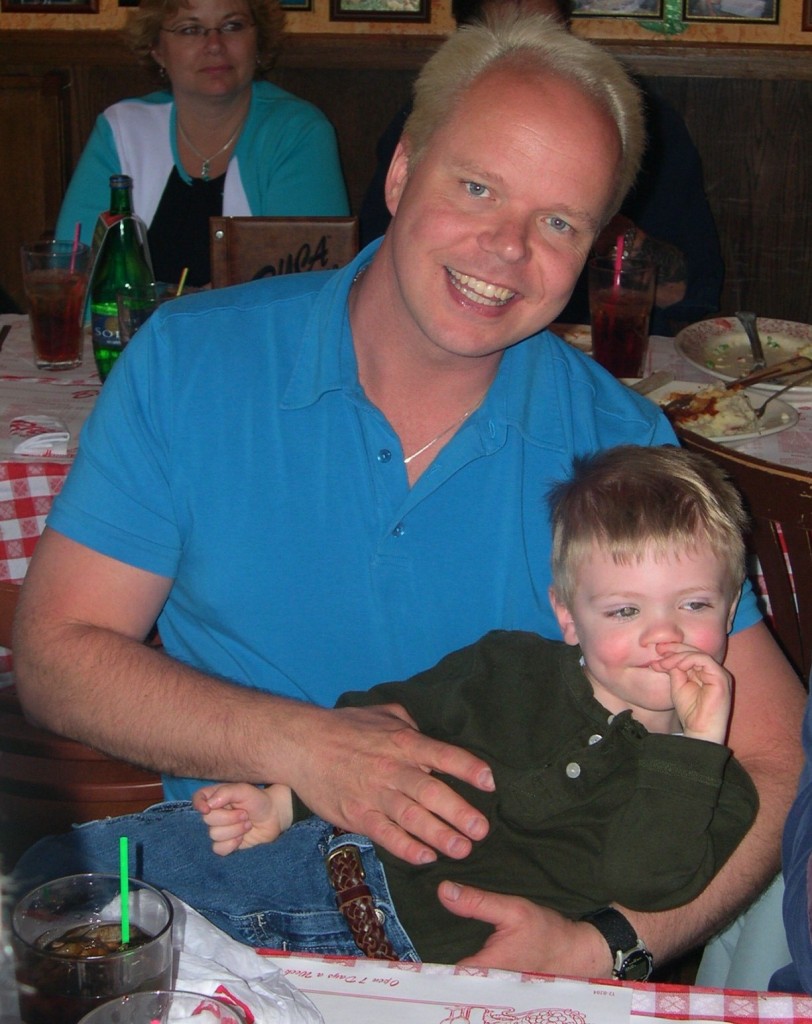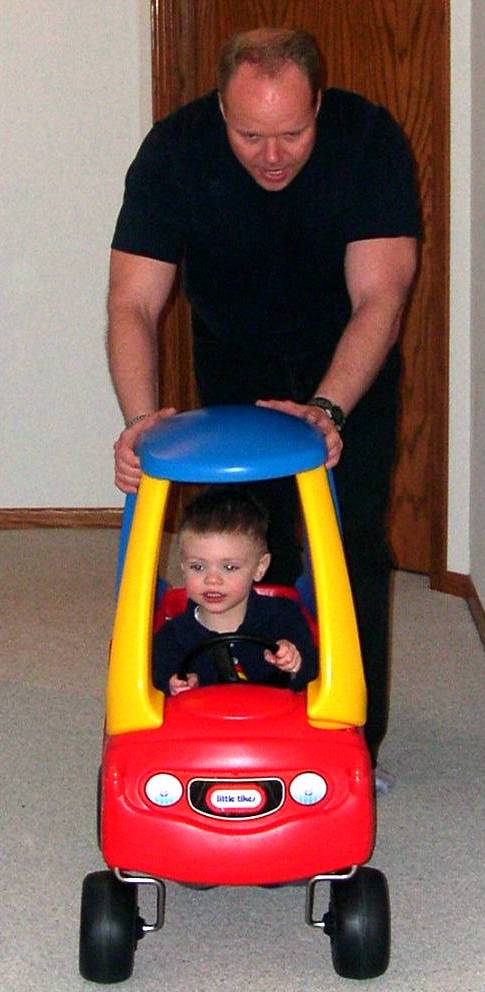 January 1994 I  went over to help Tom move into an apartment and to meet his new roommate who was the youth pastor at their church.  Joe greeted me, then thrust a smelly bag in my face and said, "Here, take the garbage out."  While I deposited the foul package in the receptacle I wondered what in the world Tom had gotten himself into.  I just didn't "get" Joe or appreciate his "charm".   It was not just a case of bad first impressions…I mean the guy loves the The Simpson's for pete's sake…still  he kind of grows on a person after awhile.
That spring I became nanny for a little boy, Patrick who had just lost his daddy to cancer…his mother introduced me as "Debra" and in his sweet two year old way he pronounced me "Debbo" -I fell in love for the second time that year.  To this day, in honor of Patrick, Joe still calls me "Debbo".  Joe is an excellent cook…in fact he raised a really high bar for me in that regard by spoiling Tom with his wonderful fare…homemade salsa, hummus, etouffee and light flaky pastries & pies.   One evening Joe asked Patrick and I to join them for dinner and served us a rather gourmet meal of "Tibbar"  - an exquisite dining experience understood best by dyslexics.
At our wedding the following year Joe was our second best man or as Tom called him "the runner up"…he willingly lined up with the other single men and enthusiastically caught my garter…which he chose to wear on his head for the remainder of the reception…I always wondered if it cut off circulation.
Joe loves children and is a terrific playmate, "childlike, not childish"…Ian adored him and affectionately called him, "Uncle Joe."   Ian also adored Joe's dog, Rika and Joe taught Ian to fish, drive a boat and splash in the lake at his family's cabin.
Every year at Christmas the biggest box under our tree is from "Uncle Joe"…it always contains a veritable plethora of wonderfully creative home canned items…  salsas, pesto,  sauces, pickled veggies, etc all from Joe's own garden - grown and packaged with loving care and often outrageous names.
Joe has a gift for speaking a word of sincere affirmation that truly encourages the heart.  Honestly some of the best compliments I've ever received in my life have come from Joe.  He's intelligent and intensely passionate in his pursuit of knowledge and sharing of ideas.   He has great  "muchness".
Ok, so why am I telling you these things?  Because Joe's driving me stark raving mad lately - which of course is a short trip but nonetheless…for all of the ways that he can tenderly touch my heart he can also make me want to strangle him - guess you could say we have a fairly classic brother/sister relationship.
He was encouraging me awhile back indicating that he had looked at my blog and noticed I hadn't written anything in awhile.  I confessed to struggling a great deal lately and being afraid to write publicly - he affirmed me, challenging me to write again.  I was deeply touched.  I felt appreciated and encouraged by his words so I wrote -but was anxious about what I'd written and waited for the verdict.  Then he confessed an ulterior motive behind his encouragement… he wanted me to write and plug HIS blog …AARGH!
Still if you are interested in finding out more about this **  "narcissistic sweetheart"  and reading his many colorful anecdotes, I would encourage you to visit his blog: http://trippingstumblingwhilefollowingjesus.blogspot.com/